Story behind my nick is
soooo lame
here's drawing which explains it all.
http://i17.photobucket.com/albums/b75/AbyJaz/thestory.jpg
So, years ago,
Friend of mine, allmighty
Muura
(Hanna) drew that page full of brains and stuff, as you can see.
and she wrote there "
hihi
". I put
A
there, to make the word "
Ahihi
",
which doesn't mean anything funny really.. it's just how every teenchicks laugh.
And I wanted that everybody knows that that '
A
' is mine, so I wrote there "
A BY JAZ
"
(Jaz/Jazman was nick what I used before AbyJaz.)
Hanna didn't understand my point and she asked "
AbyJaz
?"
..and the rest is history ;P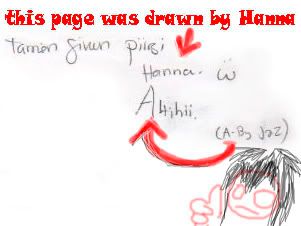 get my messy message? :'D